QUEEN (I)
En 1969 el guitarrista
Brian May
y el bajista y cantante
Tim Sttaffel
deciden formar una banda en el
Imperial College
de
Londres
, y se lanzan a la búsqueda de un batería, contestando a la llamada
Roger Taylor
, un estudiante de odontología que se sumó a
Smile
, como decidieron nombrar a la banda.
Smile
sirvieron como teloneros de artistas como
Genesis
,
Yes
,
Jimi Hendrix
y
Pink Floyd
.
En el mismo año
Smile
firma un contrato con
Mercury Records
y entran a un estudio de grabación donde graban seis canciones. Solamente dos canciones fueron editadas en forma instantánea y lo hicieron en formato single. La cara A contenía la canción
Earth
y la B,
Step on me
. Las otras cuatro (
April lady
,
Polar Bear
,
Doing all right
y
Blag
) vieron la luz en 1982. El tema
Doing all right
sí salió editada en el primer álbum de la banda (
Queen
) y solamente en
Japón
. El material no ha dejado de ser una pieza de coleccionista. El sencillo fue un profundo fracaso tanto en
Reino Unido
como en
Estados Unidos
.
Tim Sttaffel
decide dejar la banda para unirse a
Humpy Bong
, sin embargo les recomienda que prueben con su compañero de piso, quien estudiaba arte con
Staffel
, y se había vuelto un fanático de la banda,
Frederick Bulsara
.
Farrokh Bulsara
por aquel entonces ya había cambiado su nombre original por el de
Freddie
. Según ciertas fuentes, la elección de ese nombre se debió a que sus amigos y profesores en
Zanzíbar
le llamaban
Freddie
, incluso en su familia.
Mercury
vino de la canción
My fairy king
en la parte : -
Mother Mercury
look what they've done to me- ya que una tarde salió a flote el comentario que ella era su madre, por lo tanto debía de llamarse igual. Este comentario provocó la risa del resto de los integrantes, pero
Bulsara
una vez más lo hizo y cambió su nombre a
Mercury
, una nueva estrella nacía. Pero parece ser que la realidad fue que era por el
Dios Mercurio
por lo que adoptó este apellido.
El primer paso fue cambiarle el nombre al grupo, que pasó a llamarse
Queen
, y después hubo que buscar un nuevo bajista. Tras un año probando con diferentes músicos, al final se les unió definitivamente
John Deacon
a mediados de 1971.
Este mismo año consiguen grabar cinco canciones en los estudios
De Lane Lea
:
Keep yourself alive
,
The night comes down
,
Great King Rat
,
Jesus
y
Liar
. El demo resultante fue enviado a diversas compañías, al principio sin mucho éxito. A pesar de esto en 1972 se embarcan en una pequeña gira por el sudoeste del
Reino Unido
, zona de origen de
Taylor
, con buen recibimiento. A mediados de año reciben una oferta de la grabadora
Trident
, no sin antes organizarles un recital en el famoso local
Marquee
a modo de prueba, que fue superada con éxito.
Durante los dos años siguientes se dedicaron a madurar la idea de grupo que querían para
Queen
. No solamente la teatralidad rockera, sino también el tratamiento de las voces, guitarras y el aspecto general de su música, aparte de componer temas con suficiente calidad como para grabar un primer disco que impactara, y tras la reclusión voluntaria comenzaron las sesiones de grabación gracias a ciertos contactos que tenían en la compañía y estudios
Trident
.
De esta manera, el segundo semestre de 1972 encuentra a
Queen
en los estudios de grabación preparando su primer disco. No obstante deben hacerlo en los tiempos muertos, cuando celebridades como
David Bowie
no lo utilizan, la mayoría de las veces por la noche o de madrugada. El material es finalizado a principios de 1973 y la banda quedó muy conforme a pesar de las dificultades. Sólo faltaba que
Trident
ubicara el álbum en alguna discográfica.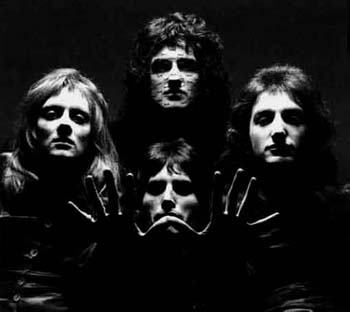 En mayo, la discográfica
EMI
decide editar el disco pero el lanzamiento no se producirá hasta julio de 1973 bajo el título
Queen
, considerado por la revista
Rolling Stone
como fabuloso. Una semana antes se había lanzado el single
Keep yourself alive
/
Son and daughter
, que no entró en las listas. El disco se compone de 10 temas en los que dominaban las voces y las guitarras. Sonidos duros, guitarras saturadas con punteos doblados sobre los que se dibujaban líneas vocales muy onduladas, con abundancia de coros en varias voces y mucha riqueza orquestal, acústicas, piano... O lo que es lo mismo, el estilo de
Queen
prácticamente perfilado, ese que luego maduraron y repitieron a lo largo de su vida artística, con más o menos acierto.
Queen
muestra a la banda con un sonido cercano al hard rock. Esto se hace evidente en canciones como
Great King Rat
,
Jesus
,
Modern times rock 'n roll
,
Son and daughter
o
Keep yourself alive
. Sin embargo comienza a verse la presencia de la ópera en temas como
My fairy King
o el instrumental
Seven seas of Rhye
. Los cambios de ritmo se hacen patentes en
Liar
y
Doing all right
(la misma que utilizara
Smile
cuatro años antes).
The night comes down
los muestra en una faceta exótica en una introducción y un cierre orientales. Hay temas como
Jesus
o
Liar
, en donde se trata de temas religiosos.
Jesus
es una canción acerca de la vida de
Jesucristo
. Curiosamente se puede pensar que
Freddie
, el autor de estas canciones, era cristiano; pero su religión era el
Zoroastrismo
.
Si bien el álbum no entra en la lista de los diez discos más vendidos de
Reino Unido
, la banda consigue llamar la atención de nuevos fans. Esto los motiva a entrar de nuevo en el estudio de grabación en agosto de 1973. Además, reciben una gran noticia: el grupo de moda en ese momento,
Mott The Hoople
, quiere que les hagan de teloneros de sus shows por
Reino Unido
. La gira se realiza entre octubre y diciembre culminando en el
Hammersmith Odeon
londinense. Fue famosa una espectacular actuación en el
Imperial College
de
Londres
, de la que siempre han dicho fue su lanzamiento definitivo. De ahí se derivaron algunas actuaciones fuera del
Reino Unido
y otra en el prestigioso programa de TV,
Top of the Pops
, sustituyendo a
David Bowie
.
La sofisticación en el sonido, con un cierto aire glam (todo lo contrario a la actitud hippy que acababa de arrasar) atrajeron no solamente al público sino también a la propia
EMI
, quienes viendo que ahí había materia prima decidieron que el segundo disco del grupo había que grabarlo inmediatamente, y no ya en los ratos muertos del estudio, sino con todo el tiempo del mundo. De forma que en septiembre de 1973, apenas un par de meses después de la publicación del primer disco, comenzaron las labores de grabación del segundo, que se termina de grabar a principios de 1974. En febrero realizan su primer show extraeuropeo en el
Sundance Festival
en
Melbourne
,
Australia
. A su retorno a
Inglaterra
reciben las primeras copias del futuro álbum.
El mismo mes de febrero se edita un adelanto de éste: el sencillo
Seven seas of Rhye
(
Mercury
)/
See what a fool I've been
(
May
). La cara B no fue incluida en el disco. La cara A ya había sido incluida en el primer disco, aunque en versión instrumental de poco más de un minuto de duración. El sencillo les permite llegar por primera vez al chart inglés permaneciendo allí por 10 semanas obteniendo el puesto 10 . En marzo finalmente es lanzado
Queen II
, considerado por muchos fans como el álbum más pesado y oscuro de
Queen
.
Este es considerado como un disco de transición para la banda, por su notable diferencia con el anterior en cuanto a sonido y madurez, y por otro motivo importante: habían comenzado las voces operísticas (lo cual aún estaba ausente en
Queen I
). Esas ostentosas sobregrabaciones vocales que causaban el efecto de un coro de ópera, y que tanto caracterizaría a
Queen
a lo largo de toda su carrera había empezado a tomar vuelo en
Queen II
, y al disco en cuestión no le fue nada mal. La línea general del disco era similar a la de
Queen I
, con alguna concesión más a las guitarras acústicas y al refinamiento (en una onda muy
Led Zeppelin
, su grupo de referencia) pero sin perder ni pizca de dureza, todo lo contrario, quizá la mejor definición sea una mezcla perfecta entre los
Who
y
Led Zeppelin
con la melodía característica de su propio primer disco.
Pero aún existía un factor a pulir, el elemento comercial, les faltaba un hit comercial que se emitiera en las radios (lo cual ocurriría en su siguiente disco con
Killer queen
).
Queen II
alcanzó el puesto número 5 en las listas británicas, manteniéndose en ellas durante 29 semanas.
En ese contexto inician su primera gira por
Gran Bretaña
(
Queen II Tour
) como cabezas de cartel, tocando por primera vez en el afamado
Rainbow Theatre
de Londres
el 30 de marzo. En mayo comienzan su gira por Estados Unidos como teloneros de
Mott the Hoople
. Sin embargo, tras cinco presentaciones en el
Uris Theatre de Nueva York
a
Brian May
se le detecta una hepatitis. La banda abandona la gira y los reemplaza
Kansas
como teloneros. Los siguientes meses serían para grabar nuevo material siempre y cuando la salud de
May
lo permitiera. Mientras se desarrollaba ya con cierta normalidad la grabación del nuevo material,
Queen
tuvo que volver a detenerse, ya que el continuo consumo de medicamentos provocó el despertar de una úlcera en
Brian May
.
Sin embargo pudieron finalizar el proceso, y en octubre salió a la luz el primer resultado. Se edita el sencillo
Killer queen
/
Flick of the wrist
, ambas canciones de
Mercury
.
Killer Queen
es una canción con ritmo de music hall que cuenta la historia de una chica de clase alta que se prostituye, mientras
Flick of the wrist
es un hard rock. El sencillo alcanzó el puesto 2 del ranking inglés, manteniéndose en las listas durante 12 semanas.
En noviembre se lanza el álbum
Sheer heart attack
, que contiene 13 canciones, llegando al puesto 2 del ranking inglés, manteniéndose 42 semanas. En la grabación del tercer disco,
Brian May
apenas apareció más que para grabar las guitarras y algunas voces en momentos en los que podía tenerse en pie. Esto pudo ser la causa de que
Sheer heart attack
contuviera algunos temas que iban evolucionando a partir del hard rock de los primeros dos discos. El caso es que a partir de bases duras estaban empezando a coquetear con el pop y, sabiendo que
May
es el elemento más heavy del grupo, probablemente su escasa aportación al día a día de la grabación hizo posible el inicio de la paulatina transformación. Sin embargo, todavía seguía siendo un disco de pleno hard rock con temas históricos como
Brighton rock
,
Now I'm here
o
Stone cold crazy
(versionado por
Metallica
y asiduo en su repertorio en directo).
Gracias al éxito del disco,
Queen
se embarca en otra gira por
Reino Unido
cerrándola con dos espectáculos en el
Rainbow Theatre
, ambos filmados por
Bruce Gowers
para una posible película. En enero de 1975 es lanzado el sencillo
Now I'm here
/
Lily of the valley
. Se mantuvo en el ranking británico durante 7 semanas alcanzando el puesto 11.
A principios del nuevo año,
Queen
inicia una gira por
Estados Unidos
(
Sheer Heart Attack Tour
), pero ahora como cabezas de cartel. Sin embargo vuelven los problemas. Ahora los padece
Freddie Mercury
, al que se le disgnostican nódulos en la garganta. Por lo tanto, deben disminuir la frecuencia de recitales y finalmente deciden cancelar el 24 de febrero en
Washington
la gira. Después de unas semanas de descanso en
Hawaii
, en mayo la banda efectúa su primer tour por
Japón
tocando varias veces en el
Budokan Hall
. Fue el cierre de presentación de
Sheer heart attack
.
Por entonces era notoria la mala relación de
Queen
con su productora
Trident
, vinculada a razones económicas. El ascenso del grupo estaba provocando un incremento en las exigencias, que mientras para sus integrantes no eran satisfechas, veían el buen pasar de sus patrones. De esta forma, mientras permanecían en
Hawaii
, iniciaron contactos con otras discográficas, como
Swan Song
(que editaba a
Led Zeppelin
). La
EMI
que venía editando los álbumes de la banda bajo producción de
Trident
finalmente decidió contratar en forma definitiva a
Queen
. Nombraron a
Peter Beach
como abogado para negociar la rescisión de la claúsula que mantenía unidos al grupo con
Trident
, y se asigna a
John Read
(por entonces manager de
Elton John
) como su nuevo apoderado. De esta manera,
Queen
inicia las grabaciones de su cuarto álbum.
Si bien
Queen
era un grupo reconocido y sus álbumes tenían ventas importantes la llegada al éxito masivo se daría luego de la edición del primer single del álbum
A night at the Opera
, el tema
Bohemian Rhapsody
, que fue acompañado por un vídeo con imágenes superpuestas de los miembros del grupo.
En noviembre lanzan
A night at the Opera
, siendo el álbum más costoso nunca antes producido. Este disco tenía muchos elementos distintos a los publicados anteriormente. No se centraba tanto en el trabajo de guitarra, pasando ese protagonismo a las voces. Las composiciones eran más largas y más recargadas, mucho más intrincadas armónicamente y de entre ellas sobresalía
Bohemian Rhapsody
, el tema más emblemático de toda la carrera de
Queen
. Se eligió como single, aunque algunas emisoras tuvieron bastantes reparos en pincharlo debido a su longitud y a lo 'raro' de la propuesta, ya que mezclaba en una misma pieza partes heavies con otras operísticas o más lentas. Poco a poco fueron sucumbiendo ante la evidencia de estar frente a una de las grandes canciones de la historia del Rock y finalmente tanto el single como el disco tuvieron el reconocimiento que se merecían, aparte de convertirse en superventas.
La primera canción del álbum
Death on two legs (Dedicated to...)
, compuesta por
Freddie Mercury
, está escrita para el anterior mánager de la banda
Jack Nelson
y su anterior compañía discográfica. Éstos fueron considerados por los miembros de la banda como unos "chupasangre", lo que motivó que éste planteara iniciar acciones legales que no se concretaron gracias a que la EMI argumentó que la canción no da nombres.
You're my best friend
(
Deacon
) es una canción pop, editada en single en mayo de 1976, se constituirá como la primera canción del bajista que se utiliza como cara A de un single (que alcanza el número 7 del chart, manteniéndose durante 8 semanas en las listas). Como curiosidad, el single fue acompañado por un vídeo musical del grupo, uno de los primeros de la historia. El grupo no podía ir a una entrega de premios, y grabó el clip de una forma rápida y un tanto rudimentaria incluso para la época, para que algo de ellos llegara a la dicha entrega de premios. Casualmente la cara B del sencillo es ocupado por el siguiente tema del álbum:
'39
, un country/folk escrito por
Brian May
, el cual relata un extraño viaje espacial. La cara B del álbum inicia con la extensa (8 minutos, 2 segundos)
The Prophet's song
de
Brian May
. Para su grabación utiliza un toy koto, instrumento de cuerdas japonés. En la mitad de la canción se produce un corte donde surge un intrincado juego de voces sobregrabadas.
Love of my life
(
Mercury
) es la balada del disco. Para ella
Brian May
recurre a un arpa.
Good company
, autoría del guitarrista, es un charleston donde aparecen ukeleles y bronces en la percusión.
Bohemian Rhapsody
es la siguiente canción, considerada por muchos como la mejor canción de la historia. El disco cierra con la versión que
May
realiza del himno británico que anteriormente ya venía culminando los recitales en vivo.
A night at the Opera
representó el comienzo de la auténtica masividad, pues alcanzó el número 1 en
Inglaterra
(el 4 en
Estados Unidos
), estando en las listas británicas durante 50 semanas, lo que le permitió obtener disco de platino. 1975 concluye con un show grabado por la
BBC
en el
Hammersmith Odeon
. El siguiente año inicia con una gira por
Japón
,
Australia
, y finalmente
Estados Unidos
.
A night at the Opera
alcanzó la posición 230 en la lista de los 500 mejores álbumes de la historia de la revista
Rolling Stone
.
Durante septiembre de 1976, el grupo realiza un pequeño tour por
Reino Unido
que concluye el 18 del mismo mes (sexto aniversario de la muerte de
Jimi Hendrix
), con un recital gratuito en el
Hyde Park
londinense ante 150 mil personas (aunque diversas fuentes lo elevan hasta 200 mil asistentes), que no fue completado debido a que la policía desconectó el equipo al considerar que era demasiado tarde (fue el primer recital nocturno en el parque que antes había alojado a los
Rolling Stones
en 1969). Durante estos shows
Queen
estrenó dos canciones que formarían parte del próximo álbum.
A day at the races
(nueva alusión a los
Hermanos Marx
) era un título de acompañamiento a
A night at the Opera
. Como adelanto, en noviembre de 1976 aparece el single
Somebody to love
(
Mercury
)/
White man
(
May
), que llegó al puesto 2 del ranking inglés, permaneciendo allí durante 9 semanas. Mientras la cara A es un gospel compuesto por
Mercury
, la segunda es un rock pesado de
Brian May
que relata la conquista del oeste estadounidense desde la visión de un aborigen. El nuevo álbum finalmente es editado en diciembre, permaneciendo 24 semanas en el ranking inglés. Su mejor ubicación es el puesto número 2, aunque alcanzó el número 1 en las listas de la
BBC
. Tras una introducción con guitarras sobregrabadas el álbum inicia con el hard rock
Tie your mother down
, escrito por
May
.
The millionaire waltz
(
Mercury
), que incluye un solo de guitarra con fraseos de vals. La cara B abre con las dos canciones que precedieron al disco en formato de single:
Somebody to love
y
White man
. La última canción del disco es
Teo Torriatte (Let us cling together)
que posee estribillo en japonés, lo que obliga que la banda recurra a ella cada vez que visite
Japón
(excepto en la gira de 1985). El álbum de principio a fin demuestra que no tiene nada que envidiarle al anterior, y muestra diversos paralelismos (aparte del título).
De lo que no entró en
A night at the opera
se construyó este nuevo álbum. No son 'sobras' del anterior, sino temas escritos a la vez que no pudieron entrar pese a la idea inicial de
Brian May
de publicar un disco doble.
Se avecinaban nuevos aires en el rock británico: el siguiente single a
Somebody to love
editado por
EMI
fue
Anarchy in the UK
, de
Sex Pistols
, originándose la oleada punk. Se inicia un giro musical, que tendrá su apogeo en la primavera de 1977. Muchos grupos del estilo progresivo se vieron afectados.
A principios de 1977,
Queen
inicia una gira por
Norteamérica
, tocando por vez primera en el
Madison Square Garden de Nueva York
y el
Forum de Los Angeles
. Aprovechando su estancia en
Hollywood
visitan a
Groucho Marx
. Mientras tanto, en marzo, deciden editar el segundo single del álbum:
Tie your mother down
/
You and I
, que, con 4 semanas en la listas británicas, alcanza el puesto 31. El vídeo de la cara A fue filmado en
Miami
, lo que motivó que llevaran hasta allí a su director
Bruce Gowers
. Finalizada la etapa americana de la gira, inician la europea. Tras dos meses de recitales, éstos culminan el 6 y 7 de julio en el
Earls Court de Londres
, aprovechando el
año de
Jubileo de la Reina
. El show cierra con un medley de viejos rock & rolls como
Lucille
,
Jailhouse rock
o
Stupid Cupid
. Días antes, en mayo, editaron su primer y único EP titulado justamente
Queen's first EP
, e incluía canciones conocidas:
Good old-fashioned lover boy
/
Death on two legs (Dedicated to...)
/
Tenement funster
/
White Queen (As it began)
. El EP permaneció 17 semanas en las listas, alcanzando el puesto 10.
En ese año, tras dos meses de grabación, publican en noviembre su siguiente disco
News of the world
, bastante distinto a los dos anteriores por estar mucho menos obsesionados con las partes operísticas y los guiños a otros estilos que no fueran rock puro, y por lo tanto con más espacio para las guitarras y los sonidos duros. Ejemplos en la archiconocida
We will rock you
,
Sheer heart attack
o
Fight from the inside
. Había también reminiscencias al rock and roll clásico como en
Sleeping on the sidewalk
, baladas para el lucimiento de
Freddie Mercury
como
My melancholic blues
y, por supuesto,
We are the champions
, que salió como single.
En octubre de 1977 había adelantado la publicación del álbum el single
We will rock y
ou
/
We are the champions
, canciones ambas que pasarían a convertirse en himnos utilizados en muchos acontecimientos deportivos, siendo consideradas pioneras en el
Arena Rock
o
Stadium Rock
.
News of the world
compite con
The Game
como el álbum de estudio más vendido de
Queen
en
Estados Unidos
, donde alcanzó 4 veces el disco de platino.
News of the world
llegó al puesto 4 en
Reino Unido
(manteniéndose en las listas durante 20 semanas), y al 3 en
Estados Unidos
. El título del álbum se basa en un cómic de la década de los 30, y el diseño de tapa e interior fue encargado al dibujante
Frank Kelly Freas
.
En 1978 publican
Jazz
, que alcanza unas ventas discretas y que fue duramente criticado, la revista
Rolling Stone
dijo: "
Queen
no tiene creatividad para hacer
Jazz
,
Queen
no tiene creatividad por esta razón para hacer
rock & roll
". Se destacan como singles de la nueva producción
Don't stop me now
y
Fat bottomed girls
/
Bicycle race
. Otros sencillos que tuvieron un menor éxito fueron
Jealousy
y
Mustapha
. Su primer single,
Bicycle race
, nació con polémica incluida al grabar un clip de la canción incluyendo varias fans desnudas en bicicleta en el estadio de
Wimbledon
. Sin embargo
Queen
ya estaban preparando material para su siguiente álbum.
En 1979 ponen a la venta su primer disco en vivo titulado
Live killers
, el cual fue todo un éxito, realizado durante las grabaciones de la gira europea del
Jazz Tour
. El disco consiguió dos discos de platino en
Estados Unidos
y en otros países. Contenía todos los éxitos de listas del grupo hasta la fecha,
We will rock you
,
Killer queen
,
Bicycle race
,
Don't stop me now
,
Bohemian Rhapsody
, etc., pero también dejaba clara la vocación de
Queen
por el rock duro al elegir temas en esa onda, algunos con partes realmente memorables, como el solo de guitarra de
Brian May
en
Brighton rock
, muy espectacular para aquel momento.
Canciones recomendadas
:
Keep yourself alive
,
Great king rat
,
Liar
,
Son and daughter
(Queen)
Father to son
,
White Queen (as it begun)
,
The loser in the end
,
The march of the Black Queen
,
Funny how love is
,
Seven seas of Rhye
(Queen II)
Brighton rock
,
Killer queen
,
Tenement funster
,
Flick of the wrist
,
Lily of the valley
,
Now I'm here
,
In the lap of the gods
,
Stone cold crazy
,
Dear friends
,
Misfire
,
Bring back that Leroy Brown
,
In the lap of the gods (revisited)
(Sheer heart attack)
Death on two legs
,
I'm in love with my car
,
You're my best friend
,
'39
,
Seaside rendez-vous
,
Love of my life
,
Good company
,
Bohemian Rhapsody
(A night at the Opera)
Tie your mother down
,
You take my breath away
,
Somebody to love
,
Good old fashioned lover boy
,
You and I
,
Teo Torriate (let us cling together)
(A day at the races)
We will rock you
,
We are the champions
,
Sheer heart attack
,
Spread your wings
,
Get down, make love
,
Who needs you
,
It's late
(News of the world)
Mustapha
,
Fat bottomed girls
,
Jealousy
,
Bycicle race
,
Let me entertain you
,
Dead on time
,
Don't stop me now
,
Dreamers ball
(Jazz)
Death on two legs
,
Now I'm here
,
'39
,
Keep yourself alive
,
Don't stop me now
,
Brighton rock
,
Bohemian Rhapsody
,
Tie your mother down
,
We will rock you
,
We are the champions
(Live killers)
Aquí van varias muestras de lo mejor de la primera época de
Queen
. El primer single del álbum
Queen
,
Keep yourself alive
:
Keep yoourself alive - Queen
La maravillosa
Killer queen
, canción que me enloquecía cuando yo todavía iba con pantalones cortos, y
Now I'm here
, del álbum
Sheer heart attack
, toda una referencia en mis gustos musicales de pequeño:
Killer queen - Queen
Now I'm here - Queen
La que ha sido votada varias veces como mejor canción de la historia del rock,
Bohemian Rhapsody
, toda una maravilla, en la que demuestran cómo se puede mezclar magistralmente balada, ópera y rock, y
'39
, una gran canción en versión en directo, del álbum
A night at the Opera
:
Bohemian Rhapsody - Queen
'39 (Live) - Queen
Otra gran canción,
Somebody to love
(escuchad
la versión
que canta mi primo
Xavi
, de
Ocumé
, sensacional) y la rockera
Tie your mother down
, del álbum
A day at the races
:
Somebody to love - Queen
Tie your mother down - Queen
El cierre habitual en sus conciertos,
We will rock you
+
We are the Champions
, del álbum
Jazz
:
We will rock you/We are the champions - Queen
Y la divertida
Mustapha
, de
News of the world
:
Mustapha - Queen